Navigation is a really broad topic. So I am going to cover just one topic in this post – and that's the steps I go through in choosing and preparing a route on my navigation systems and plotting a route in ViewRanger. Firstly I always have a minimum of two navigation solutions:
Map – a paper map and compass. Once I have decide the area I am going to be hiking and backpacking in I always get a paper map. Depending on where I am going I might print map out if its just a small section or for a larger backing trip – I'll likely buy the map. The only time I might not have a paper map is if I'm urban hiking. For compass I use a Suunto MC-2. Both Suunto and Silva are good brands. However it's important to understand how to navigate with a compass and how declination needs to be accounted for.
I use Viewranger for my detailed planning. Viewranger allows me to do two things I like. Firstly I can plot out my exact route that I am going to follow on my IPad, then I can transfer that to my IPhone for my actual hike as a route to follow. I use the the IPhone as a navigation device when hiking – it also connects to my IWatch (okay so I am an Apple person) and I use that for navigation too.
If I am going on a serious backpacking trip – I'll take my Garmin InReach. It's both a GPS and more importantly a personal locator beacon that I could use to call for SOS in a life threatening situation.
Planning example
To walk through a complete example of how I set this system up for a backpacking trip. Let's assume that I have already picked the route, which is the North Lake / South Lake Loop in the Sierra. This goes through something he most spectacular scenery on the JMT/PCT.
Working in ViewRanger
In ViewRanger I'll find the overall route that I am looking to follow. The initial screen in ViewRanger looks something like this: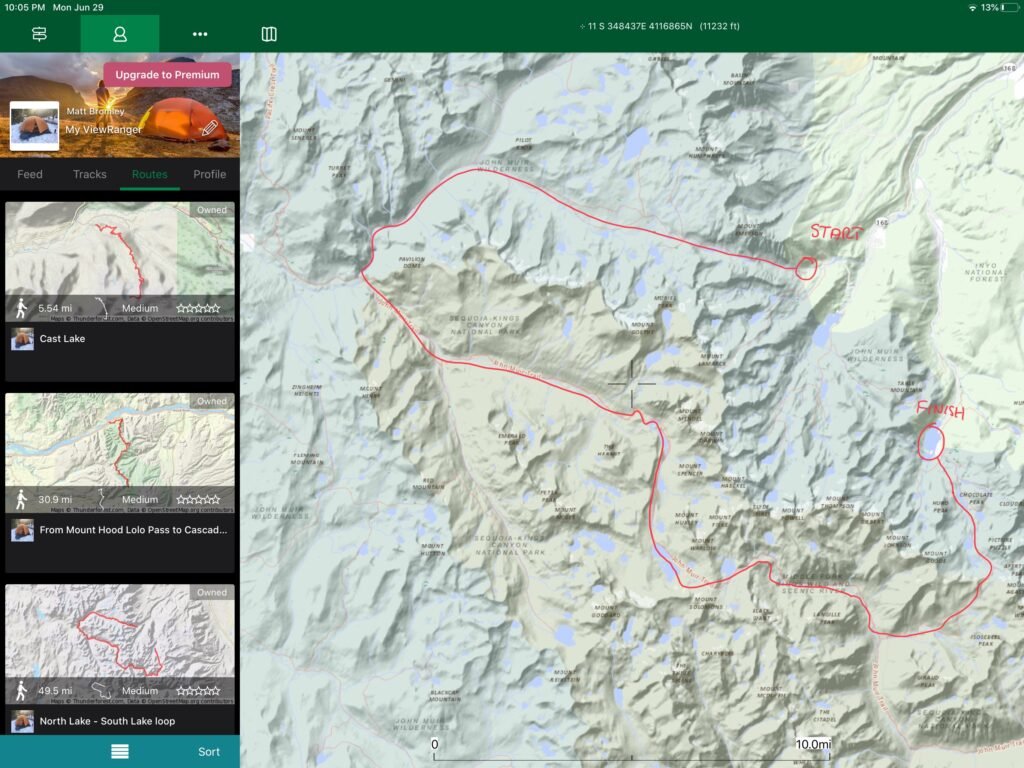 I've marked on the approximate route. You can see that even though it's called a loop it's a little more like a 'C' and there will have to be some transport to get from the finish back to the start. I'll have to work out that logistical challenge a little later.
Once I have found the route I'll mark it out in detail. Most of the time I'll find that the trail(s) I want to follow are actually marked on the map so creating the route is basically creating a series of waypoints. This can be quite tedious but it gives me the track that I'll be following on the actual hike. I can also get some useful information from the track, like the elevation change. If you want to get technical I can also export the track as a GPX file and import it into another mapping application. But that's a topic for a different post.
You can clearly the three mountain passes that this trail goes across, Piute, Muir, and Bishop.
Downloading to IPhone
Now that I have the route marked, and I've also marked the intended camp spots. I'll sync this so I can download it on my iPhone. This is what I'll actually take with me on my trip. What's really important is to download all the required maps for the route area so that you can see all the details when you are offline. There's a convenient option to download all the maps necessary for the trail area. Even so I' ll double-check that this is all working correctly by going into Airplane mode and checking that I have access to all the maps necessary for the entire trail.
I'm now pretty much set from my basic electronic navigation standpoint. If I don't have a paper map, I'll work out how to get one. For most of the Mt. Hood area, this is not an issue as I already have plenty. For this trail I decided I needed a new paper map. The National Geographic Mammoth Lakes, Mono Divide map covers the area best.
Summary
Always have a paper map and know how to read it.
Digital electronics for navigation play an important role, make sure that you have plotted the route you are going to follow and that you are confident it will work offline too.
Check out my Navigation page for some other topics.