It's getting close to that time of year where we are all scratching our heads on what to get our hiking and backpacking friends for Christmas. Here's my rundown of the best 10 hiking and backpacking gifts for under $50!
1. Power Bank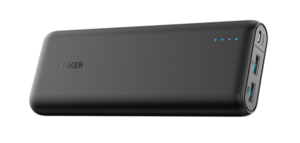 We take more and more electronics with us backpacking. Some of these are out of convenience and also more and more they form part of our safety equipment. Whether it's cell phones for photos, music, or reading, or a GPS device for navigation, if you are out in the backcountry for more than a day or so, you'll need a way to charge them. There are two different alternatives that are generally used; either a power block or a solar charger. Now that power blocks are getting more efficient, I think they serve the need better without having to rely on the sun to charge. A power block between 10,000mAH and 20,000mAH should be sufficient for recharging devices between resupply points. If you have an older power block, now is a good time to upgrade as they are now more efficient than ever.
The Anker 20100mAh – Ultra High Capacity Power Bank is a great choice. However power banks come with a plethora of different connections (USB-A, USB-C) and charging rates – so a little bit of research is always necessary. Also remember it's not always necessary to get the biggest capacity power block, if you don't go out for multiple nights then a lower capacity, lighter power bank will be perfect. Great power for under $35.
2. Water Filter
If you don't already have a water filter, this is going to be at the top of your Christmas list. It's pretty much essential, even for long day hikes you can bring one along to reduce the amount of water you need to carry. There are a couple of very trusted water filters – the Sawyer Squeeze, Katadyn BeFree, and the Lifestraw Go. Which works well depends on how you like to use a water filter. The Squeeze is popular as it fits on the top of a standard (Smart) water bottle. The Katadyn is great if you like to hang the water filter and let it filter while you do something else. And the Lifestraw is integrated into a water bottle which makes it really easy to fill and go. There is no right answer here – but they are all under $50 – just bring a backup – such as these Aquatabs!
3. Hiking/Trekking Poles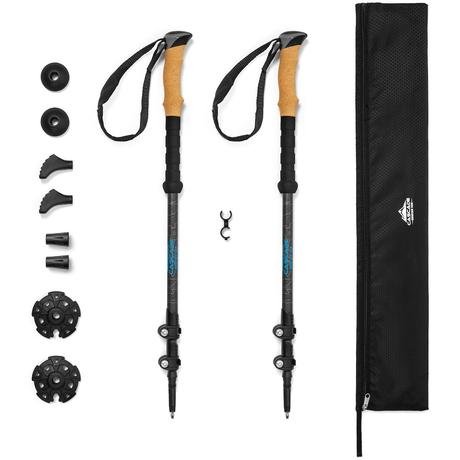 If you have just started out this year or you are a more seasoned hiker, a set of hiking poles makes a great gift. Hiking poles not only increase balance and ease the stress on knee joints, but they should also be an essential piece of your backpacking kit. Poles are essential for stabilizing you when crossing streams, they are multi-functional and can double as a selfie stick and a pole for a tarp. Cascade Mountain Tech Trekking Poles are a bargain. They are highly regarded, reasonably priced at $45, and very durable. We actually have three pairs of these and have no complaints at all.
4. Compass
If you don't have a compass, this is a must-have item. It is possibly one of the few items that can literally save your life, as long as you know how to use it. There are a couple of great brands; Suunto and Silva do fine. These days it's unlikely to be your primary navigation device, we can leave that up to GPS devices, but a solid compass is a critical backup, of course, paired with a paper map. The Suunto MC2 Navigator is a great compass and the little brother of what I have, Check out this post to learn a little more about basic safety and navigation. Another great gift for around $45.
5. Pillow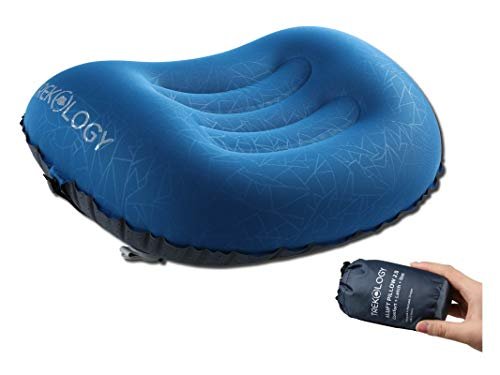 It took me longer to find a good pillow than any other piece of kit. I had probably tried most things; blow-up pillows, stuff sacks, jackets – but nothing ever worked well. Either not comfortable or would slip around. Finally, I came across the Trekology Pillow – well actually it was a gift – so passing it forward. This has worked incredibly well for me. It has a strap that goes around the pad, keeping it in place. And it's just super comfortable. A good night's sleep is essential to having a good backpacking trip. The Trekology Pillow worked for me and was a true bargain at $17.
6. Headlamp
Sometimes overlooked when you put your first set of equipment together, but nonetheless, a critical safety item is a good headlamp. Both are useful for setting up camp if it's late, or night hiking, or as an emergency signal. A good headlamp can help you get out of the trail when the sun starts to fail. There are several good brands available and I have always had good luck with Black Diamond. A great start would be the Spot Headlamp. The headlamp has a dimming, a red mode for around camp at night a strobe for signaling. All for $34.
7. Socks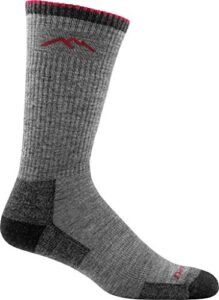 Socks! The proverbial Christmas gift is a great one for hikers and backpackers. A great pair of socks is the key to happy feet! There is none better than Darn Tough – with their lifetime guarantee. These socks are so comfortable that they are also my normal socks – so I pretty much only have one type of sock – and a continuous need for new ones! There are multiple styles so I'd recommend spending some time checking out the variety of options. Their Hiker Sock is a great place to start and comes in at just under $25. Socks are finally the perfect gift!
8. Stuff Sacks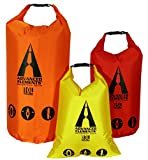 You'll certainly find some backpackers who consider stuff sacks to be unnecessary added weight. However, I like to have a few things organized and find these stuff/dry sacks to be perfect. I use these to keep my kit well organized. They are pretty decent at being dry sacks and so will keep either gear relatively dry or keep wet gear from getting other stuff wet. I would say they are not a complete dry sack – so if your pack got completely dunked I'm not sure how effective they would be – but I use the 5-liter sack as a wash bag from time to time and it seems fine. I get the most use out of the 2L and the 5L and must confess that I don't often use the 10L – even so, these Advanced Elements Dry Bags are a great buy at around $25.
9. Knife
If you've just started backpacking this year it's quite possible that you started off with a knife that is more suited to Crocodile Dundee rather than a few nights in the wilderness. Often you can save a lot of weight by downsizing to a smaller knife without sacrificing any functionality – you very rarely need that 3-inch blade. A great multi-purpose knife is the Leatherman CS. Weighing in at only 1.4oz this is super light, has all the tools you are really likely to ever need, including a knife, spring-action scissors, flat and Phillips screwdriver, tweezers, and a nail file. All for about $30.
10. REI Gift Card
If all else fails and you're out of ideas – an REI Gift Card is a welcome and safe choice! You get to pick the value.
Honorable Mentions
The Stick Pic would have definitely made my list – a great piece of ingenuity. However, they are redesigning their product for 2020 and won't have it available until the New Year – keep an eye out for their product – a great way to turn a trekking pole into a selfie stick!