One of the more common questions for JMT or PCT hikers is whether to stop at Vermilion Valley Resort or Muir Trail Ranch (or both) for resupply and rest and relaxation. Although lots of folks look to compare these two locations they are really very different and serve different purposes. Much of this depends on whether you are traveling Northbound or Southbound, whether you are looking for a quick resupply or a little longer break – maybe a nero or zero. Let's look at some of the aspects that can help you decide between VVR and MTR.
Location
Both stops are pretty close to the JMT/PTC. However, MTR is definitely closer, especially when the ferry is not running – see later.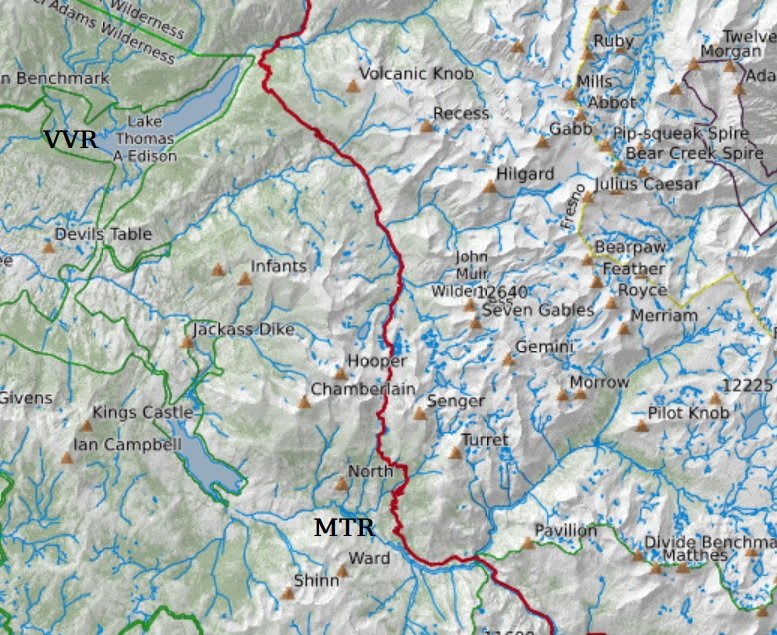 The approximate locations of VVR and MTR are
| | | | | |
| --- | --- | --- | --- | --- |
| | JMT SOBO | JMT NOBO | PCT NOBO | PCT SOBO |
| VVR | 87 | 135 | 877 | 1773 |
| MTR | 108 | 114 | 857 | 1793 |
Mile Markers to VVR and MTR
It's about 20 miles between the two. However, the two are separated by Selden Pass. So if you are considering how long it would take to get from one to the other – it's probably best to plan at least 2 days.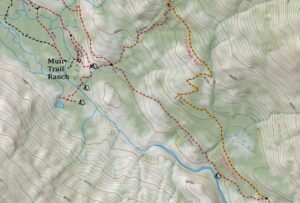 Getting to MTR
MTR is almost on the JMT – the detour from the JMT is only just over a mile. Northbound there is a 1.3-mile spur off of the JMT that leads down to MTR. Southbound there is a 0.6-mile descent from the JMT down to MTR. This decent is a little steep (or at least it is as an ascent) and if you are traveling northbound the trail from MTR to Selden Pass is quite a slog. Especially if you have resupplied and have a heavy pack. The route is somewhat exposed.
Overall MTR is a simple detour to get into and out off. Although there is no camping at MTR itself, there are hot springs and other campsites in the near vicinity.
Getting to VVR
VVR is a little further from the main trail. And can be a little more challenging to get to. In a good year, there is a ferry that crosses Lake Edison. However, it is dependent on the water level and often does not run for the entire season. For the last couple of years, the lake has been low and the ferry has either had a very short run and the start of the hiking season or has not run at all.
If the ferry is not running there are several options for getting to VVR. You can of course hike along the High Sierra Pack Station Trail there and back. Each way is around an additional 6-7 miles. Much of this is through a recent burn area from the 2020 Creek Fire. Although some find this more tedious – it's fascinating to see the ecosystems recovering.
There are some other alternatives – for northbound hikers, taking the Bear Ridge Trail is a good option. This takes you down to the Edison Lake dam, which you can then walk across the top of and follow the forest service road to VVR. Leaving VVR northbound a common option is to take Goodale Pass Trail. This joins the JMT after Silver pass, so you end up skipping Silver Pass. This route is around 9 miles. This compares very favorably with just over 12 miles if you rejoin the JMT at Mono Creek and then cross Silver Pass.
Services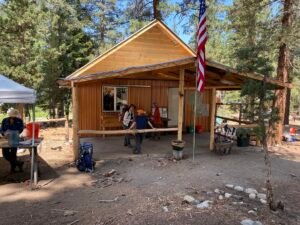 This is where the real difference is between the two locations. Many folks look at them as resupply options and then try to compare them.
MTR Services
MTR is really only a resupply option. You go there to resupply and leave – you could be in and out in an hour – unless you have to recharge electronics which can take a couple of hours. MTR has a small shop – but it has only a few hiking essentials and should be looked at for emergencies only. There are several tables set up around the depot so that once you have your resupply bucket, you have plenty of space for repacking bear canisters.
Hiker boxers at MTR are a little limited at MTR during the pandemic but they do have short-term buckets where access food can be left and picked up – although maybe every hour they were emptying them (and collecting food for the local homeless community). They also have bins of fuel cans that people have left/traded. Note that MTR has other services if you are staying at their accommodation.
VVR Services
VVR, on the other hand, is a full-service resort. It has a full shop, somewhere to camp, a restaurant, accommodation, washing machines, etc. Around these services is an atmosphere of hiking camaraderie that makes VVR more of an experience – it's often referred to as one of the hiking vortices that can be hard to escape from. When you have been on the trail for several days – or maybe this is your first real stop on a NoBo JMT hike – there really is nothing more welcoming.
You can of course resupply at VVR. But as a nero/zero break – it's a great opportunity to relax and meet other hikers. Even thou we only stayed at VVR for about 24hrs – we met great people there and had a great time. For another couple of days, we were leap-frogging a couple of groups we met there and kept the conversations and friendships going.
You can of course camp at VVR – but they also have other accommodation if you want more of a luxury break, take a shower, and have a regular bed for a night. However, a lot of this space gets reserved well in advance so you may either have to luck out when you get there or be somewhat clever with reservations (we made a reservation when we were on the trail through my wife when we knew exactly when we would reach there).
| Service | MTR | VVR |
| --- | --- | --- |
| Water | Yes | Yes |
| Resupply | Yes | Yes |
| Charging | Yes | Yes |
| Hiker Box | Limited | Yes |
| Store | Limited | Yes |
| Restaurant | No | Yes |
| Restrooms | No | Yes |
| Laundry Service | No | Yes |
| On-site camping | No | Yes |
| Additional Accommodations | No | Yes |
| Atmosphere | Not Really | Loads |
Service Comparison
Resupply
Perhaps the most important aspect of both VVR and MTR is the ability to provide resupply for long-distance hikers. This is a necessary service for many long-distance hikers and allows them to send supplies forward so that the hikers can pick them up on the trail. Both VVR and MTR provide resupply services, at a cost, and it's really important to follow the instructions very carefully. Even thou the resupply services may seem expensive – it's also important to understand that both MTR and VVR are a long way from the nearest post office. After receiving your resupply packet/bucket they often are stored offsite and then brought to (in particular) MTR by boat and mule train in time for your arrival.
MTR Resupply
The details for MTR resupply are here. The cost for 2022 is $95 (I believe in 2021 it was $85). This is an addition to the postal charge from the USPS (which for me last year was about $55). They also recommend allowing about 3 weeks (national) and 4 weeks (international) for your resupply bucket to arrive at MTR. They have a great tracking process where they will send you a confirmation email when your bucket arrives and provide you with a small identification slip to use to pick your bucket up.
VVR Resupply
The details of the VVR resupply are here. Currently, the cost for 2022 is not yet published, but for 2021 was $30 for the main season and $50 for May or October. VVR recommended that your resupply arrive two weeks in advance. Again the nearest post office is a long way away and resupply is only brought up as necessary.
New owners of VVR
Between the 2021 and 2022 hiking seasons, VVR changed ownership. The previous owner Jim Clement had been a legend in supporting the hiking community at VVR. I reached out to the new owners Michael and Caleb and asked them for a little information about their plans for the future. I've already seen them active on the hiking groups on Facebook and other places and I'm really excited about what they are bringing to the future of VVR.
"We here at VVR have the goal to be the best at taking care of hikers. We named our company Wilderness Hospitality LLC and that contains our purpose statement in itself: bring excellent hospitality to the wilderness and ensure every hiker has the best possible experience on the trail.

The list of some of the amenities to meet this goal: 1st cold beer or soda is free, hot pizza out of our custom-built stone-fired pizza oven, massage therapy, brand new bungalow tents and hostel, free camping in our Mushroom Valley, hiker boxes with extra gear/food shared by hikers, full kitchen that is completely redone with three hot meals a day, 6 unit shower/bathhouse, store stocked with a variety of hiker dehydrated foods, including meals, dried fruits, and meats, fresh fruit, cookies, candy, chips, fuel, other gear to be able to do a full resupply if needed.

All of these services make for such a special feel and ambiance that you especially experience around the nightly fire where you speak with hikers and meet such interesting people from all over the world."

Michael & Caleb
The future looks bright at VVR!
VVR or MTR?
Hopefully, this helps you decide if you want to visit MTR or VVR. For JMT hikers MTR is a great stop if you are trying to avoid a resupply in the southern section of the JMT and feel comfortable being able to cover the 100+ miles. However, VVR is an iconic resort to take a break at, even if it is a little further off the trail.