Sometimes you just don't have the time to make a break for the mountains and have to cherish what you have in your own backyard. Forest Park is one of the largest municipally-owned parks in the US. Luckily it's a quick 15-minute drive and has over 70 miles of trails. Long enough for a very substantial day hiking.
Adjacent to Forest Park is both Washington Park and Pittock Mansion – this increases the hiking opportunities and gives plenty of opportunities for variations that include visits to Hoyt Arboretum, the famous Rose Gardens, and the Oregon Zoo.
With all this opportunity I decided for a day hike from Washington Park into Forest Park. I wasn't too particular about the route as I've hiked through Forest Park many times. As long as I end up on the Wildwood trail I'm pretty sure I'll get a decent workout in.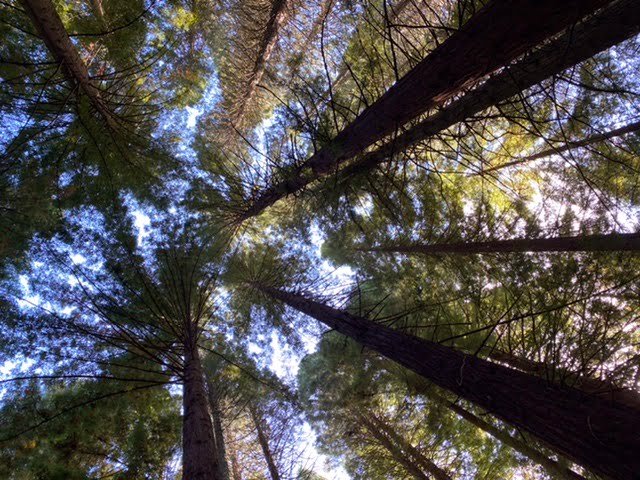 There is plenty of parking in this area – both paid and on-street so that's not an issue. I parked close to the Arboretum and then set off with Hunter on the White Pine Trail. Through the grounds of the Arboretum, there are useful information posts on the different types of trees and habitats. From the White Pine Trail I transitioned to the Redwood trail, where there are truly some massive trees.
Finally, this took me to the Wildwood Trail – which I knew would take me up to Pittock Mansion and then down into Forest Park itself.
Pittock Mansion is the high point of this hike – and it's a reasonable amount of exercise. Even though this was a very urban hike, I managed to cover over 2000 feet of vertical change – not too bad.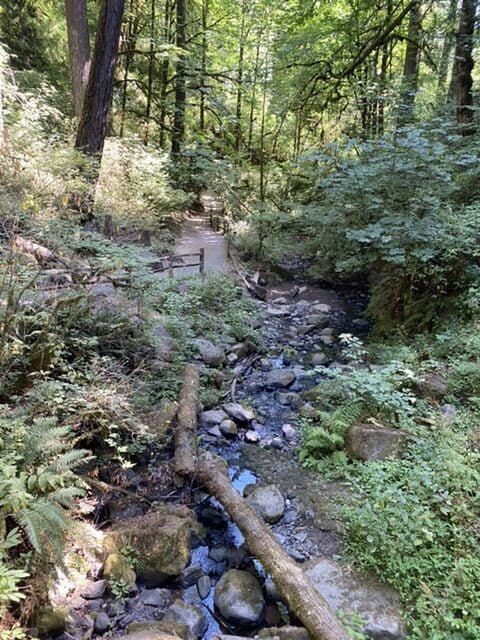 There's some interesting scenery along the way – the Barbara Bridge is pretty unique although for some reason Hunter didn't seem to take to the decking and had a good dose of trepidation crossing it. The graffiti-covered stone house.
No doubt this is a busy trail. Very dog-friendly but also full of trail runners and families. In normal circumstances, this would be wonderful, but currently, it seems many people were wearing masks for the whole trip.
There are many more opportunities in Forest Park for other hiking challenges. I'd really like to try to complete the WildWood trail – which is close to 30 miles. Always good to have somewhere close to home to explore.
For this trip, I treated this as a simple out and back. So after 5 miles we turned around and headed back for a total distance of just over 10 miles. Stats for the hike: