When I hiked the JMT last year, I did all the normal preparation to select the right geat for the trip. A lot of the focus is ensuring that the big items are dialed in well – tents, sleep system, and kitchen. However, with every trip, there are a few surprises. Some new piece of gear that you decide is a must-have moving forward. For the JMT these two pieces of gear were the surprises – the best new hiking gear for the trip.
Gaiters
Gaiters are a pretty common recommendation for the JMT. This is mostly to stop little stones from getting in your shoes, especially if you wear trail runners. However, the big added benefit from gaiters was never getting a shoelace to become undone. In the entire 240 miles of the trail – I doubt I had more than one or two times to stop to tie a shoelace. The laces stay nicely tucked in. It's not uncommon when I hike without gaiters that I have to retie my laces a couple of times a day.
Dirty Girl Gaiters are a common gaiter for trail runners. However, for me, a pair of Altra trail gaiters worked fine. Possibly the best $20 spent on gear!
Sun Hoodie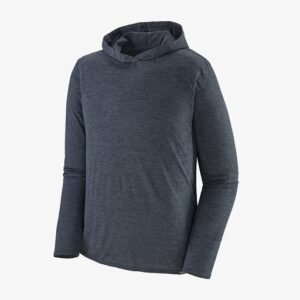 Sun Hoodies seem to be all the rage. And not without good reason. Particularly in the Sierra, I look for a lot of good sun protection (burn too easily). So something that is cool to wear, long-sleeved and hooded seemed like an ideal option. Certainly better than having to put oodles of sun cream on every day.
I picked up the sun hoodie just before the trip. Originally I was going to take a long-sleeved synthetic shirt in addition to my usual Columbia Silver Ridge. However, I picked up a Patagonia Capilene Sun Hoodie – and was super glad I brought that along.
This is super light and cool. It does a great job at sun protection and the hoodie extends that to your neck and ears. It's easy to rinse and then dries nice and fast. Overall I was really happy with this – and it saved a ton on the sun cream!