I love hiking in the Sierra Nevada and was looking for a spectacular multi-day hike in the Sierra Nevada mountains, the Tahoe Rim Trail should definitely fit the bill. This 170-mile loop trail offers stunning views of Lake Tahoe and the surrounding peaks, as well as plenty of opportunities for camping, wildlife spotting, and outdoor adventure. As always with backpacking it's always worth having a plan B. Plan A for me was the Wonderland Trail, but again I failed to get permits for it. So hopefully the Tahoe Rim Trail as a plan B for the summer of 2023 will be spectacular. This is the start of my Tahoe Rim Trail planning.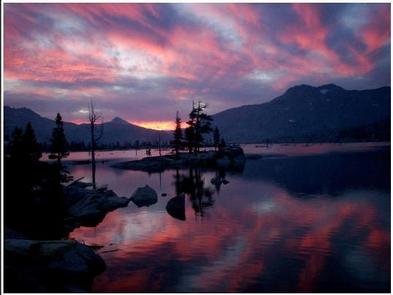 The Taho Rim Trail Association has a wealth of information. This would be the second longest thru-hike that I have completed – the JMT being slightly longer. However, logistically the THT looks somewhat simpler to organize. The permit situation looks a little simpler, there are plenty of resupply options and logistically it is a little easier to get to. In 2023 the biggest variable will be the snowpack that California has which might push this out to a late August trip.
Permits
Yes – permits are needed for the Tahoe Rim Trail. But it looks much easier to secure the permit than for other very popular thru-hikes. A permit for overnight use is only required in one location along the Tahoe Rim Trail – the Desolation Wilderness.
To stay overnight in Desolation Wilderness along the Tahoe Rim Trail, you'll need either a regular permit (for non-thru hikers) or a TRT Thru-Hike permit (for thru-hikers). These permits are issued through a quota system and can be reserved up to six months in advance via recreation.gov or in person at an LTBMU (Lake Tahoe Basin Management Unit) USFS visitor center when open to the public.
Currently for thru-hikers the thru-hike permit is not part of the quota system and can be obtained by the following process:
Call the Lake Tahoe Basin Management Unit (LTBMU) Forest Service Supervisor's Office between 8:00 am and 4:30 pm at (530) 543-2600 to request a permit.
Call 7 to 10 days prior to leaving home.
Leave a message stating a timeframe of when you can answer your phone. The LTBMU will call you back to issue your permit.
Permit holders must camp within 300′ of the Tahoe Rim Trail and at least 100′ from any water source.
A California Camp Fire permit is also required, as is a hard-sided bear canister!
Early Logistics
The TRT has some easy resupply locations. Kingsbury South and Tahoe City are almost on opposite sides of the trail and make for good resupply locations where you can easily buy food. There is also an opportunity to buy a limited amount of food at Echo Chalets. Given these options, it might not be necessary to send a resupply package. When hiking the JMT we hiked for about 110 miles without resupply – so this seems pretty feasible. Although having a lighter pack is always good.
For a starting location, there are a couple of options. Some of this will depend on whether we drive or fly to Tahoe. If we decide to fly into Reno then we are more likely to start around Mt Rose at the northern end. We'd then probably hike clockwise. This would get us through the more arid area at the start of the hike. If we drive we might consider starting at Kingsbury South, where this is reportedly some good, secure parking. In this case, it might be a bit of a wash on direction but again I might consider counter-clockwise to get through the arid section first. However, there are many other overnight parking opportunities at different trailheads.
Early Itinerary
At about 165 miles, we'd (did I mention Keenan is up for this little hike as well) be looking to complete this in somewhere like 12 days. This is about an average of 14 miles a day and pretty much on par with our JMT pace. An early possible itinerary, from Mount Rose, might look like this:
| | | | |
| --- | --- | --- | --- |
| Day | Description | Mileage | Total Mileage |
| Day 1 | Mt. Rose Trailhead to Marlette Peak | 14.5 | 14.5 |
| Day 2 | Marlette Peak to South Camp Peak | 14.6 | 29.1 |
| Day 3 | South Camp Peak to Kingsbury Grade | 9.6 | 38.7 |
| Day 4* | Kingsbury Grade to Saxton Creek | 18.6 | 57.3 |
| Day 5 | Saxton Creek to Showers Lake | 11.9 | 69.2 |
| Day 6* | Showers Lake to Lake Aloha | 16.5 | 85.7 |
| Day 7 | Lake Aloha to Richardson Lake | 18.3 | 104 |
| Day 8 | Richardson Lake to Ward Creek | 15 | 119 |
| Day 9* | Ward Creek to Painted Rock | 14 | 133 |
| Day 10 | Painted Rock to Martis Peak | 17 | 150 |
| Day 11 | Martis Peak to Mount Rose Trailhead | 14 | 164 |
Initial Itinerary
This is just an early stab for logistics – I'll refine this later and in particular probably add a little more time in Desolation Wilderness. Planning this out helps me become familiar with the area. The good news is this is a relatively flat hike!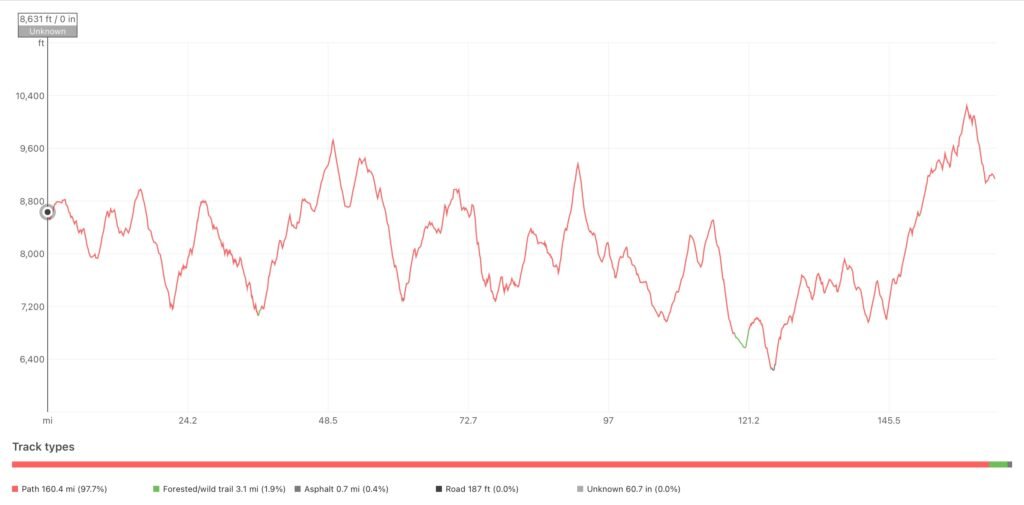 So far so good. Initial logistics look good – just have to wonder how the snowpack will cooperate, or not. Stay tuned for more Tahoe Rim Trail planning as I prepare for this summer's adventure.