After months of chilly weather and snow-covered trails, spring has finally arrived in the Pacific Northwest! The snow is slowly melting away, and the Trilliums are blooming. It's time to start thinking about getting back out on the trail. As an expert hiker, I've kept myself busy this winter with snowshoeing and skiing, both alpine and cross-country. Now I'm eagerly anticipating the return of spring hiking. And, while some of us have been busy applying for summer hiking permits, there's still plenty of excitement to be had on the trails this spring. From the snow-capped peaks of Mount Hood to the lush forests of the Olympic Peninsula, the Pacific Northwest is full of opportunities for adventure. So, what will this spring hiking season bring us on Mount Hood? Let's find out!
What are the current conditions on Mount Hood?
While the Pacific Northwest hasn't seen record-breaking snow like the Sierra Nevada, there's still plenty of snow to contend with in some areas. Many hikers in other areas are eagerly awaiting the opening of popular trails like the John Muir Trail and the Pacific Crest Trail. The question on everyone's mind is when these trails will be passable. In previous high snow years, raging rivers have kept hikers at bay well into the traditional hiking season. Hikers should be aware of the potential hazards associated with these conditions. However, despite the snowpack being robust in many areas of the Pacific Northwest, Mount Hood is one destination that seems to be bucking the trend. As of April 16th, the snowpack on Mount Hood is currently running at 102% of normal. This might be a bit surprising to some hikers, given what feels like a pretty extensive snow season, but it's great news for those looking to hit the trails as soon as possible.
There are several snow sensor sites on and around Mount Hood. One at an altitude between Government Camp and Timberline. We can look at the actual data as of today. Interestingly the snowpack is much higher at lower altitudes. The majority of the other sensors in the local area are located between 3000-4000 feet. These are showing snowpacks much more in the range of 150% to 300% of normal.
Currently what we have is about average snowpack at altitude and considerably higher snowpack lower down. However, this is likely due to it having been a relatively cold winter and this lower-elevation snow will melt relatively quickly as the temperatures warm up.
This data is available from the Northwest River Forecast Center.
How does this look visually?
Hopefully, many of us have been up into the mountains this winter and seen the snow with our own eyes. If we take a satellite look at the area we get to see a great bird's eye view of the region. It's definitely early in the season and getting a clear day for a satellite image is a challenge. However, the two images below were taken within about 2 weeks of each other.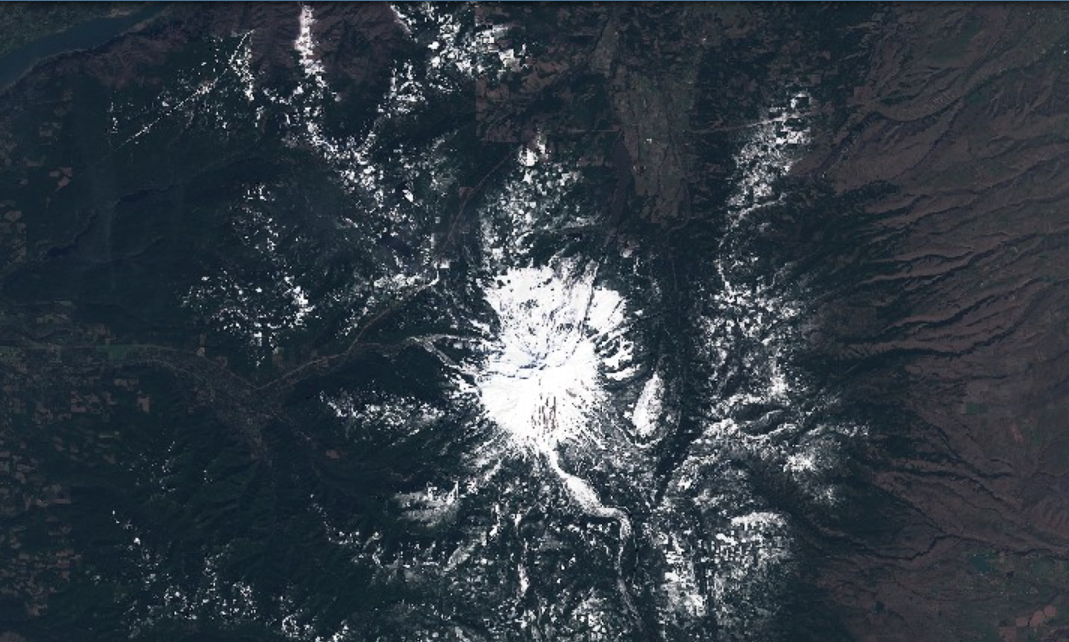 Snowpack difference between 2023 and 2022
The increased snow at lower elevations is clearly discernable.
How will this year compare to last year?
It wasn't until mid-July that the Timberline trail was easy to navigate in 2022. In the second half of July, I made a trip to Paradise Park and there were still some small areas of snow on the 23rd of July! I suspect we will have a similarly late start to this year. However, the increased low-elevation snow is likely to have less of an impact. It will melt off quickly. Nor will it add appreciably to the snow melt that impacts the glacial stream and river crossings around Mount Hood, so hopefully they will also be about normal.
There are still many lower-elevation trails to explore. We'll talk more about them in a future post of course the Salmon River Trail is a must!
As the season progresses I'll be updating my snow report page for the Timberline Trail. And if you are thinking of hiking the Timberline Trail this year, be sure to check out the survey results from last year!
With the snow starting to melt and the flowers starting to bloom, it's the perfect time to start planning your next hiking adventure. Let's leave the cold behind now that spring has sprung and look forward to the spring hiking season in Mount Hood.