The first section of our Timberline Trail trip took us from Timberline Lodge to Elk Cove. Keenan, John, Hunter, and I left Timberline Lodge at about 5 PM on Thursday evening. The goal was really just to get a few miles under our belt and get as far as Meadows or Newton Creek, before heading on to Elk Cove the next day. We did start a little later than we had expected and so we were more likely to end up closer to 5 miles rather than the 7 miles to Newton Creek.
Timberline Lodge to Meadows
Right from Timberline Lodge, we could see the smoke from the White River fire. Although this looked surprisingly close, it was about 13 miles from us. This time of year is super dry in the National Forest and there is a complete ban on fires – the White River Fire was from natural causes, but just shows how dry the forest is.
The trail from Timberline Lodge counterclockwise starts on the Pacific Crest Trail and follows the top west side of the White River Canyon. We slowly descended the sandy trail until we reached the turn-off to the Timberline Trail. This then took us rapidly down into the White River Canyon and towards the White River. The bottom of the canyon was wide and generally suitable crossing places are marked with small cairns.
Crossing the White
Our first river crossing was the White was just a jump. There were plenty of choices of where to cross, narrower places to jump, and wider for Hunter to wade across. For Hunter, if he's going to wade, one of us will cross first and pass his leash (which is about 8 ft in total) to the other side so that there is no chance he'll get washed away. The White was an easy first crossing.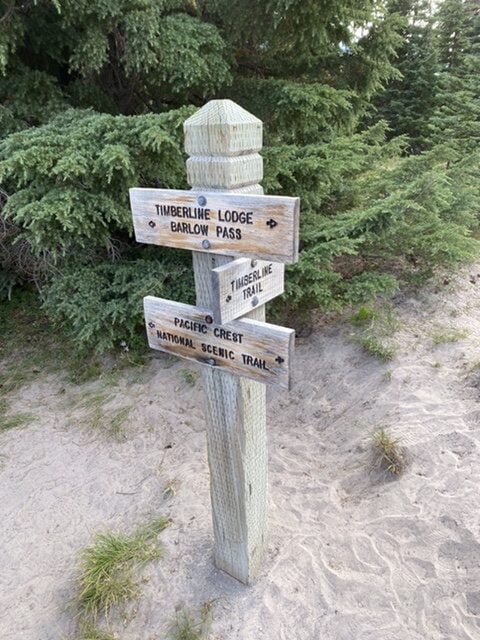 Our first climb was out of the White River Canyon. This quickly ascends through a nicely treed trail and leads to the edge of the Meadows Ski Resort. I find hiking the trail in summer gives a completely different perspective of the ski resorts – as you pass under the lifts and across the runs that you might recognize better from winter activities. Under Vista, MHX, and across the ski runs. At this time of year Meadows earns its name with beautifully flowered meadows in bloom, intersected with the occasional stream cascading down the slopes.
As we crossed through Meadows, the trail is relatively flat. There are numerous campsites dotted between clusters of trees. We found one very close to the Shooting Star Lift, with a reasonable stream nearby. The clouds had closed in and there were spots of rain, so it was a great time to set up camp.
Dinner was a typical freeze-dried meal. One of the routines I keep is to make sure that everything is cleaned at night and water refilled so that in the morning it's easy to get up, make some quick breakfast, and set off. Although we never seem to leave that early.
After dinner – just as it was getting dark, the rain picked up a little and we retreated to our tents. Hunter is great in a tent and nested onto his bed, snuggled under a new down throw. Looks like he was all set for the night.
Day 1 Summary
We were just about on target to cover Timberline Lodge to Elk Cove by the end of tomorrow. Here are the stats for the first day.
Meadows to Elk Cove
Friday morning was a little cool and overcast. This morning would not only be quite a climb to the highest point of the Timberline Trail, but also several of the more challenging river crossings. As is normal we were about packed up by 9 am and on the trail.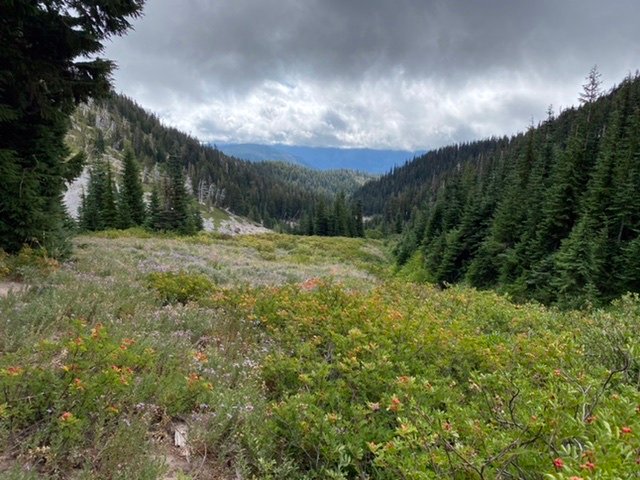 Pretty quickly we descended into Heather Canyon. The trail continued to be surprisingly sandy – so we were all getting pretty dusty. As we dropped towards Clark Creek, we crossed through what we assumed to be ski runs through the trees, maybe Endor but one full of blooms. I had remembered from last year that there are only a few campsites between Meadows and the other side of Heather Canyon. It was probably a good call to stop where we did. We arrived at the canyon floor and looked for a place to cross the Clark. For all of this was just a jump – not even a rock hop. Keenan seemed to be able to do this still drinking his morning hot chocolate! Ascending the canyon wall on the other side – the ski runs down the side of Heather were clearly visible.
Crossing the Newton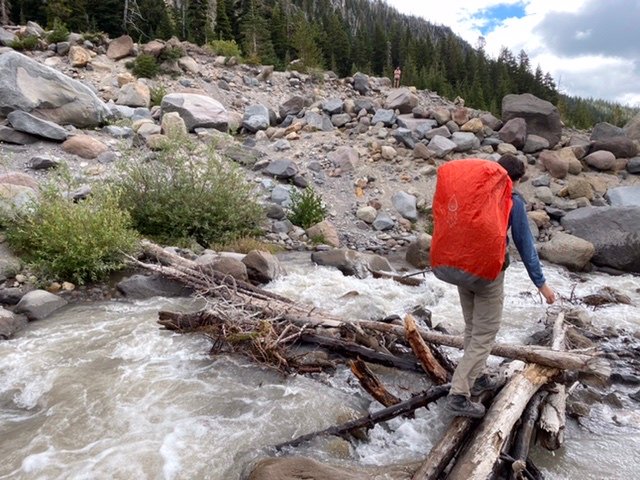 As we descended towards the Newton there were a few more campsites. Just before the Newton are some great sites. Some of these are tucked away behind other sites so it's worth exploring a little. Crossing the river was also not difficult. Several small logs close together made it pretty easy. Even for Hunter, it wasn't a problem. Both the Clark and Newton are relatively flat canyon bottoms with plenty of space and none of the crossings have anything dangerous downstream.
Just before Newton are plenty of small streams to refill water. The glacial streams are not good for filtering – they'll clog a filter really quickly. I wanted to get some extras water as the carry-up Gnarl Ridge is pretty dry. We all had about 2 liters each and I carried an extra 3 liters. The climb up to Bluegrass Ridge was not as bad I thought. Protected and relatively cool, with the wind picking up. As we emerged onto Gnarl Ridge, behind Lamberson Butte, the wind was blowing a gale, literally. I estimated the winds to be around 45mph, as this is just about when it gets difficult to walk.
Descending to Cloud Cap
The good news is this did not last long as we quickly dropped off the exposed ridge and had some protection as we climbed up towards the high point of the Timberline Trail. Even though this is the dry side of Mount Hood, there were still plenty of small rivulets of water so the extra 3-liter carry was unnecessary. We started the long descent, across the barren landscape. The pace was pretty quick, but the clouds were starting to close in.
We passed Cooper Spur trail and shelter and then started the descent towards Cloud Cap – our lunch destination. As we descended toward Cloud Cap the trail got busier – as more day hikers mix in with the Timberline Trail hikers. Even though we are in the world of Covid, the social distancing and mask/bandanna wearing was excellent. (Oddly I read an article from some university testing that indicated that bandannas were the only face covering to be less effective than no covering at all – but kudos for effort). We got into Cloud Cap campground at about 1.30 pm – a great time for a lunch break. The water spigot at the campground is on but there is no trash service.
Crossing the Eliot and Compass
Leaving Clod Cap we almost immediately start the descent towards the Eliot. This has always been one of the more challenging crossings. It's actually a combination of factors that make the Eliot difficult – the river itself is one that has a higher volume and it has consistently cut through the canyon wall making the entry and exit points unpredictable. Recently the trail was rerouted, adding almost a mile to the trail and last year the trail and the crossing were well aligned. The drop to the river was about 500 feet, so in no time at all, we were at the crossing. There was clearly a log well-positioned for crossing and scrambling down to it was not really difficult.
None of us had any problems scrambling down to the log crossing or navigating across the log (even Hunter). However, the scramble back up to the trail was decidedly more difficult. Directly after the crossing, we had to scramble up about a 20-foot section of steep wall. Some kind soul had left a rope to help with the steepest section – however, ropes don't work too well for dogs. While John & Keenan followed the rope route, Hunter and I followed a faint trail upriver and switchbacked a few times back to the top. Not too difficult but the canyon walls felt particularly unstable and loose.
The ascent from the Eliot is just a little more than the descent and starts to cut through a burn area. Burn areas always give a completely different feel to the landscape. Death with all the burnt trees but always a bright understory as new life pushes up.
Normally I wouldn't mention the Compass Creek crossing as it's seldom noteworthy. There are a couple of tributaries that are easy rock hopes and one main one. The main compass creek is also not that wide – however, the log everyone was using was perched precariously above a small drop-off. If you fell, it would be a 3-4 foot drop even though it's a pretty easy 1 step across the log.
Crossing the Coe and a windy night at Elk Cove
After the Compass Crossing – it's only about a mile to the Coe. In all the times I have been around Mt. Hood, the Coe tends to be the most problematic crossing. This was no exception. There were plenty of folks milling around looking for a decent crossing. After a lot of discussions and searching, we found a spot we could leap which was about as far as John and Keenan felt comfortable. The landing was not great and then there was a further jump that was more manageable. There was little downstream danger so they decided that was their crossing route. Unfortunately, it didn't look at all easy to get Hunter across – even if he could jump it there was no way we could pass his leash over. Having thought this through I decided the safest way was to wade through the Coe.
For more tips on hiking with dogs, check out this post.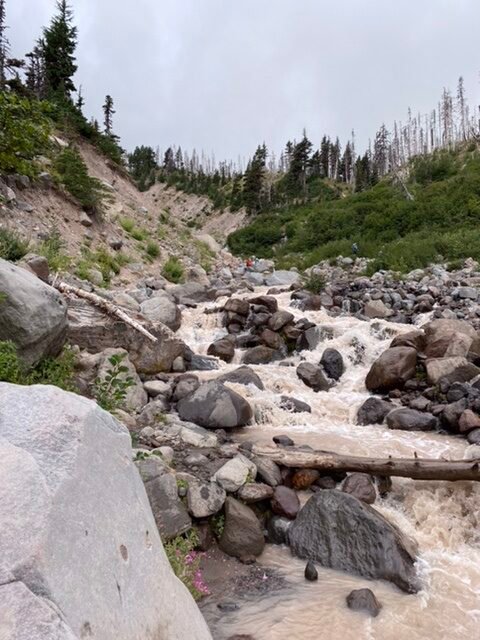 Be sure you a comfortable doing this before you try! I changed out of my socks and long pants (zip-able), kept my shoes on, unbuckled my pack, and made sure I could use my pole well as a third leg. I looked for either a shallower or braided section to cross. A braided section is useful because it allows you to cross in more than go. Make sure there are no downstream dangers. You'd imagine from the photo that this was not too difficult.
However in my first attempt (remember I have a pack on and a 40lb dog in one hand), I was quickly thigh deep in freezing glacial water. It was clear that the force of the water if I took another step would be dangerous. I backed out of that and looked for a second approach. The second crossing was much better – the water stayed knee-deep or below and I carefully edged across, using my hiking pole to test each step.
Unfortunately, I have no photos of this crossing – as a safety measure, John was downstream in case something went wrong and Keenan was across the river to catch Hunter.
The Coe slowed us down considerably. Scrambling back to find the trail we came across some human feces on a rock, with a roll of TP next to it. Pretty sure if we can't keep the national forest pristine with LNT then we can expect there to be a more rigorous permit system. From the Coe to Elk Cove was about another mile. Just as we entered Elk Cove there was a pretty decent campsite on the left so we decided to set up camp there.
The wind and light rain had picked up over the last hour and as soon had we set up our tents, the rain started to drive more. We met a couple of hammockers who were looking for a more sheltered area – it would be tough to find this evening. By the time we had fetched water it was pouring, Hunter was soaked. We quickly had dinner. I dried off Hunter as best as possible with my multi-purpose bandanna and we all retreated to our tents.
It was a very windy evening.
Summary Day 2
At the end of day 2, we had reached our goal, having traveled approximately 20 miles from Timberline Lodge to Elk Cove. A good approximation of the half waypoint. The stats for day 2:
FAQ
Check the weather forecast and prepare appropriately
Don't filter directly from glacial streams – they will likely clog your filter
Be prepared for the river crossing and know the safest way to cross
If you don't feel comfortable, find a different spot, wait until the morning or backtrack
Always follow LNT!