The vast majority of my backpacking gear stays the same. The basic setup of what I take into the Sierra doesn't vary from what I'm taking around Mount Hood. However, clothes are a bit of a variable that changes depending on the weather. So first of all it's critical to understand what the weather will be on your hike. Secondly, for your first few trips, you'll probably take too much and have to work out what you really need. Here are the clothes I wear for backpacking.
What you wear to hike in
For pretty normal hikes I'll be actually hiking in weather between about 50 and 80F. For this, my usual hiking setup doesn't change and I can get away with a single set of hiking gear. Because I also look at my clothes as sun and insect protection I generally hike in long pants and a shirt, with a well-protected sun hat. So for me, this looks like this:
Outside of the underwear, at least for summer hiking, I'll treat all of these with Permetherin. This is one of the ways I'll look to keep the mosquitoes at bay. As soon as the nighttime temperature stays above freezing you can start to expect to have mosquitoes and this can be anywhere from mild to darn right bloodthirsty.
What you wear to sleep in
If the nighttime temperature is warm, probably about 50 degrees and above, I'll just have a clean pair of underwear and socks for sleeping. So at this point, I am always bringing 2 pairs of socks and 2 pairs of underwear. Usually, I'll wash down before getting into my quilt to get rid of any oils and sweat.
These are the basic clothes for backpacking, now I'll look at how to add clothes for other conditions. Remember the key to selecting clothes is the principle of layering.
What happens when it gets cold
Changes in temperature cause me to re-evaluate my clothes. I always bring a base layer. This currently consists of Odlo hooded top and leggings. (By the way, these are currently on sale!). If the night is going to be cool – I'll sleep in these and if the morning is very cold I'll use these as a base layer to hike in. With my 30F quilt and this setup, I've been comfortable to nights at about freezing. I'll also bring my ever-versatile puffy I was a little late to the world of down jackets and this is one item I wish I had bought earlier. They are super light and warm, compact very very well. I've slept in this if it's really cold. And I've used it to keep Hunter want on cold mornings.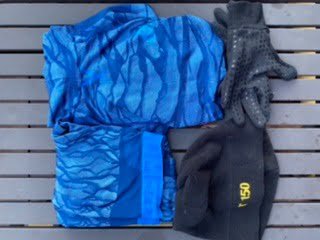 Finally, I'll always have a beanie (which is from my old Boy Scout Troop – go Troop 150) and a pair of gloves.
Now if I know the weather is going to be cold – so it's more hiking in the shoulder season – I might bring an additional fleece. Also, I'll consider bringing a liner for my sleeping quilt – this should add about 25F to my quilt. Using this means for the types of hiking I do I don't need more than one quilt.
Rain Gear
We all know rain gear is one of the essentials – however, this is one item I'll often make a call on leaving at home. Firstly my rain gear is just a pair of Frogg Toggs. These are pretty light and cheap – probably not the most robust. However, I am not generally hiking where rain will be persistent. Often I'll just take the top or if I am confident in the weather I'll leave these at home and if I get caught in a thunderstorm unexpectedly – I'll through up the fast-fly of my tent and shelter there. Rain in the summer is often not long-lived.
Other clothing comments
On top of this, I might bring an extra pair of socks. If I am on a longer hike, which would normally be in the summer months I'll wash at least underwear and socks each evening. If I'm going to do this I'll normally use one of my stuff sacks as a wash bag and then add just a drop of campsuds. I'll empty and rinse again in the stuff sack, making sure to do this 200ft from water sources. I find that almost always lightweight, synthetic clothes will dry really quickly. Socks might take a little longer – but I can always hang them on the back of my pack during the next day.
Be sure to check out some other gear suggestions!