As we around out 2020, which has definitely been a stressful year all around, it's time to look forward to next year with the hope of better things to come. Even though there are many obstacles that are still unknown; the state of the pandemic and who fires will have impacted the trail – I'm still going to plan the start of an awesome adventure – Sierra 2021 planning here we come for the JMT or PCT!
Given that there are still many unknowns I'm hoping to hit one of the following as my main hike for 2021:
JMT Southbound – this is the really tricky one as the permit successor ate is really low
JMT Northbound – much easier to get permits for – although not necessarily the preferred direction by many
PCT LASH (long ass section hike) – Southbound from Tahoe to Walker Pass
PCT LASH – Northbound from Walker Pass to Tahoe
Even though there is a lot of variabilities – the planning is actually pretty similar. Some folks make a big deal in planning for long hikes, I actually find it is not as complex as many folks make out. The initial planning is really just about a couple of logistics:
I am currently just looking to get the basics of these in place although the timing is right as some of the permit application dates are right around the start of the New Year.
Permits
The strategy I have with permits is to be flexible enough to ensure that I secure the necessary permits for one of my options. It's a little more complex this year for two reasons. I am planning to hike with my son and he has a limited window because of school. This means that we'll be targeting somewhere between the start of July and the end of August for the trip. The Sierra can still be snowbound in early July, or at least a little more difficult to travel – so I'll be keeping an eye on the snowpack (which unfortunately is running at 48% of normal at the moment and only 30% in the southern Sierra).
JMT Southound
JMT Southbound permits are issued from Yosemite Conservancy. The rolling lottery does not start until December 28th. This is for permits starting the 15th of June – i.e. 169 days in advance. A single application is good for a rolling 21-day application, after which you can place a new application. For me, this means applying sometime in the middle to the end of January to get a permit for early to end July. This is by far the hardest permit to secure with an estimated rejection rate in the 90%. This permit would be great – it would be starting from Happy Isle or Lyell Canyon in Yosemite and exiting at Whitney Portal.
JMT Northbound
Generally, JMT Northbound permits are easier to secure and there are a couple of options here. Although the official northbound would be starting at Whitney Portal, other viable options include Cottonwood Lakes and Cottonwood Pass both in Horseshoe Meadows and lead to the JMT/PCT around Crabtree Meadows. These permits are available from Inyo National Forest and are available on Recreation.gov. Likewise, these permits can be requested 6 months in advance. So I'll be looking for these from early January. The disadvantage of JMT northbound is you hit all the high passes early on, combined with more limited resupply options.
PCT Options
Currently, the PCTA has not indicated its plan on issuing PCT permits. They are waiting until the middle of January to make an announcement. If I end up going for the longer hike it will create a few logistical challenges as I estimate this will be more like a 5-6 week hike. I'll hold off on more detailed planning around this option for the moment.
Travel
Luckily the rough travel plans are pretty easy for me. I have a friend that lives in Groveland and he has offered to either drop me off or pick me up in Yosemite. This makes part of the logistics pretty easy as I can pretty much just fly into a Bay Area airport and get a ride with him or his wife to Groveland and then get dropped off. The other end is a little more challenging and basically involves getting to Lone Pine in California. I think the easiest way to do this is to fly into Reno and then take the bus with Eastern Sierra Transit to Lone Pine.
Looks like this is roughly doable as the bus leaves about 1.30 from Reno airport. There is a direct flight from Portland to Reno which means I can do that in one day. I'd end up in Lone Pine in the evening. I'd then plan on overnighting in Lone Pine and then catching a private shuttle to either Whitney Portal or Horseshoe Meadows. If I'm heading NOBO I'd spend another night there just to acclimatize.
Resupply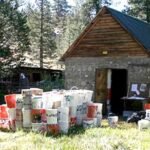 I often think folks overthink the resupply problem. If I stick to the JMT trip it's only the southern section from MTR to the southern end that's a long stretch and that's only about 100 miles. I've hiked enough in the Sierra that I'm pretty confident, that without snow, I'll average between 10-15 miles a day. Lower at the start and then picking up. I also know I can get 9 days of food as a minimum in a BV500. And of course an extra day for the first day which doesn't have to be in the bear can. With all that I'm pretty confident that for the JMT only I could follow the following rough resupply itineraries:
| | | |
| --- | --- | --- |
| Yosemite | Toulumne Meadows | 22 |
| Toulumne Meadows | MTR | 85 |
| MTR | Whitney Portal | 116 |
Approximate Resupply Southbound
| | | |
| --- | --- | --- |
| Whitney Portal | MTR | 116 |
| MTR | Toulumne Meadows | 85 |
| Toulumne Meadows | Yosemite | 22 |
Approximate Resupply Northbound
The 116-mile stretch is definitely long – but neither Keenan nor I am particularly food-driven and as this averages out at just around 11 miles a day I think it's very doable. The store at Toulumne Meadows is not extensive but good enough to add a few extra items and pick up enough additional food for a day. This would mean sending resupply to MTR – very doable. I would like to stop by VVR but as a resupply that would be an extra 18 miles and that's definitely stretching it. However, I might take a zero at VVR and resupply a few items there.
If I end up taking the longer hike then resupply becomes much more challenging. I'll plan that later if necessary.
Stay tuned to see how this JMT/PCT plan for 2021 works out!